Custom screw conveyors or Archimedes screws
The Greek Archimedes was clearly onto a good thing with his screw conveyor. Thousands of years after he invented it, the screw conveyor, screw transporter or – what else would it be called – Archimedes screw is still used to transport bulk goods.
Are you looking for screw conveyors to move bulk goods around your company?
Meyland makes the goods move! We can help you with all kinds of Archimedes screws or screw conveyors. Contact us for a quote with no obligations.
Custom Archimedes screw
Screw conveyors can transport almost any goods in your company. There is a suitable Archimedes screw for every application and every product. From small dosing screws to impressive screw conveyors with a throughput of 300 m³/hour – Meyland develops them all with attention to your needs.
What bulk goods do you want to transport? When developing your screw conveyor, we take the product characteristics of your goods into account. So we always choose the best material for your Archimedes screws. Ordinary steel, stainless steel or hardened steel? Do you need something stronger? We offer armour plating and protective coatings. Together we will look for the best finish for your screw conveyors.
Standard Archimedes screws
Do you need standard sizes or standard material for your screw conveyors? Want to buy a simple Archimedes screw? You can also come to Meyland for standard screw conveyors. Whatever you need, we make the goods move!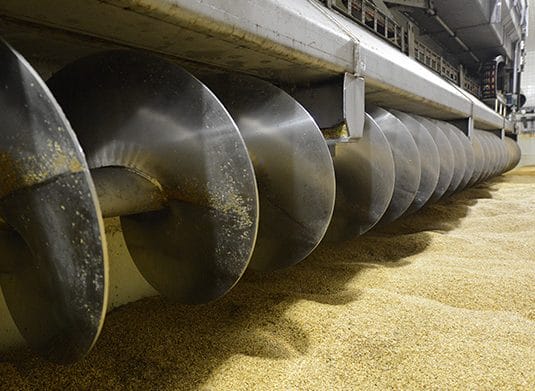 Types of Archimedes screws
Screw conveyors can be used separately, or Archimedes screws can form part of a complete internal transport system with conveyor belts, elevators and chain conveyors.  
Meyland specialises in various types of screw conveyor. We design, build and assemble the following types of screw conveyor:
Trough and tube screw conveyors
Increasing speed and tapering screws
Shaftless screws
Cooling screws (double-wall)
Receiving hoppers with screw conveyors
With a range of characteristics:
Screw diameters from 50 to 1000 mm
5 m to 30 m screw length
Throughputs up to 300 m³/hour
Do you need a different type of Archimedes screw to the examples of screw conveyors in this list? Don't hesitate to contact us. We will certainly be able to help. 
Maintenance and repairs for Archimedes screws
You can continue to count on us even after the installation of the screw conveyors for bulk goods at your company. We service and repair all types of Archimedes screws. Ask for more information about our servicing plan.