Conveyor belts
Conveyor belts, belt conveyors or roller conveyors are a crucial link in the chain for your company, warehouse or organisation. These endless belts literally get your internal transport moving, and can also be combined with screw conveyors, elevators or chain conveyors. Whatever the product you want to move from A to B, Meyland has the conveyor belt you need.
Are you looking for conveyor belts to move general and bulk goods around your company?  
Meyland makes the goods move! Want to buy a conveyor belt or put together a customised roller conveyor? We can help. Contact us for a quote with no obligations.
Customised conveyor belts
What kind of conveyor belt do you need? If you want to buy a conveyor belt, you should bear several parameters in mind:
your production process,
the desired throughput,
the distance to be covered,
the product characteristics of the goods you want to move.
Meyland takes account of all these parameters, your needs and your budget. Our years of experience give us a head start in determining the best solution for your internal transport. A roller conveyor, flat belts or trough belts? We design customised conveyor belts for you. That way you can always be sure of the highest quality.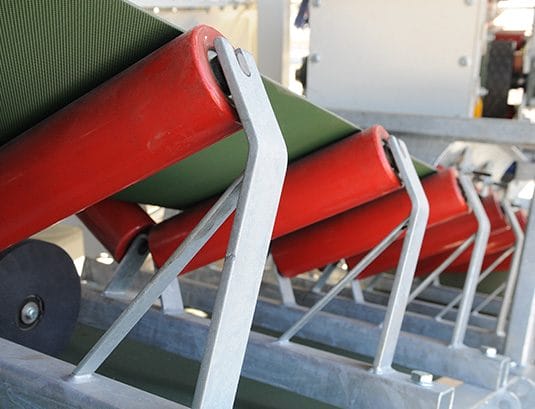 Standard conveyor belts
Do you need standard sizes or standard material for your conveyor belts? Are you looking for a conveyor belt for sale? You can also come to Meyland for standard conveyor belts. Whatever you need, we make the goods move!
Along the conveyor belt in one straight line
Conveyor belts move anything from the heaviest bulk goods to the smallest general goods in a straight line: forwards, left, right, upwards or downwards. Your conveyor belt even does what it promises to do on a slope.
Do you need a conveyor belt installed at great height? Even with tasks like that, Meyland is undaunted! We install and service conveyor belts at all heights.
Types of conveyor belt
You can come to Meyland for conveyor belts to extend or optimise your current internal transport system or for a fully customised system: from design to development, construction, assembly and maintenance. Find more information about our approach in our turnkey solutions. 
Our range of conveyor belts for general and bulk goods includes:
Trough belts,
Flat belts,
Roller conveyors,
Sliding plates,
Slat conveyors.
With a range of characteristics:
Mobile, fixed or telescopic
Throughputs up to 3000 m³/hour,
Over short or long distances (more than 1 km).
We also offer these extra options:
Removable discard trolleys,
Receiving hoppers,
Low-level receiving belts (widths up to 6000 mm),
Hopper weighing scales or

mobile weighing scales

with very short cycles (up to 9 tonnes/minute).
Do you need a conveyor belt other than a roller conveyor, trough conveyor or the other examples of conveyor belts in this list for your general or bulk goods? Don't hesitate to contact us. We will certainly be able to help.  
Maintenance and repairs of conveyor belts.
Be sure to stay in touch with Meyland after your conveyor belts have been installed. After all, we are always available for servicing and repairs to any type of conveyor belt. Find out about our servicing plan.