Machine building: customised machines
Are you looking for a specialised machine for the production process at your company? Do you want to buy a weighing system to suit your goods? Can't you find a standard solution anywhere that really meets your needs? Meyland can help. Our experienced machine builders listen to your problem, and we design the machine you need together.
Do you want to be 100% sure that your machine really will solve your problem? If so, we will build you a prototype first.
Do you need a different type of machine to the examples in this list?
Don't hesitate to contact us. Our machine builders will certainly be able to help.
Discharge hoppers
Are you looking for a cost-efficient and ecological way to unload dry bulk goods? The Meyland Discharge Hopper is a robust, funnel-shaped discharge hopper that minimises dust emissions.
What bulk goods do you process? Do you unload into a truck or onto a conveyor belt? What capacity does your port have? Do you also want to weigh or break up your bulk products?
With a discharge hopper that meets all your needs, you will save precious time, increase your importing capacity and reduce your impact on the environment. Thanks to our modular design process, your discharge hopper will soon be standing on the quay.
Do you want to find out more about the Meyland Discharge Hopper and the different options available? Read the brochure or contact us now.
Mobile weighing scales
An automatic weighing system represents great added value for your production line. Meyland builds mobile weighing scales that are perfect for use at any location and for any transhipment, on the quay for example.
You feed in your bulk goods with a crane or conveyor and send them through the weighing system. The batch weigher takes ongoing weight measurements and can handle a maximum throughput of 2000 m³/hour. Thanks to the weighing system, you will know the exact weight of all the goods you are loading or unloading at all times.
Once the products have been weighed by the mobile weighing scales, they are taken to the right silo or hopper by conveyor belts.
Do you need mobile weighing scales like these at your company? Are you looking for a weighing system for sale, or do you want to have customised mobile weighing scales built? Contact us now!
Breaking systems
Does thinking about how to turn hard, heavy materials such as rubble and reinforced concrete into granulate, quickly and evenly, leave you banging your head against the wall? Getting a breaking system installed at your production company is a solution that will save time and money. What is more, you can easily reuse the granules or separate them from the waste rubble with a rotary screen.
Meyland builds machines such as hammer mills and breakers with throughputs of up to an impressive 200 tonnes/hour.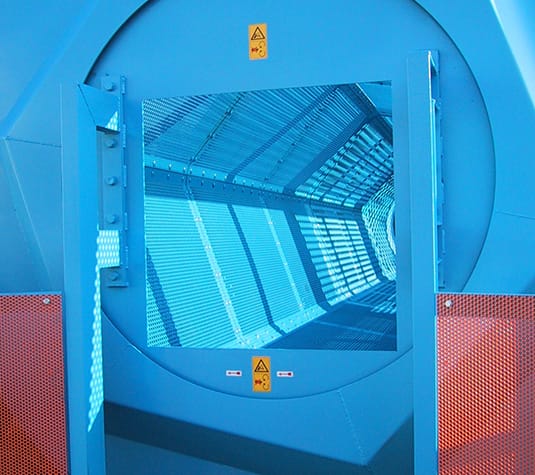 Rotary screens
If you want to sieve earth or to separate products with different granule sizes, a rotary screen comes in handy. The rotary screen is a rotating drum in which the products fall through the perforated plates. That makes sieving earth and other products child's play.
 
At Meyland, we build:
Rotary screens with a soundproofing housing,
Rotary screens with adjustable paddles for optimal use of the screening surface,
Rotary screens with small and large diameters, e.g. for scrap metal, domestic waste, gravel or contaminated soil.
Besides a rotary screen, a vibrating sieve is also a great choice for sieving soil, asphalt and other goods. You can also come to Meyland for vibrating sieves.
Do you need a rotary screen or vibrating sieve for your company? Are you looking for another type of industrial sieve, or an experienced machine builder to build a customised version? Contact us now!
Industrial mixers
Do you want to combine different end products? Industrial mixers are what you need to create a perfectly homogeneous mixture in no time.
Meyland specialises in the following mixers for industry:
Vertical and horizontal mixers,
Belt, screw, paddle and plough mixers,
Industrial mixers with a capacity of up to 20 m³
Industrial mixers with emptying systems in a flap base with slides or for use as a tilting mixer.
Meyland is also the place to be for animal fodder mixers.
Do you need an industrial or agricultural mixer for your company? Are you looking for an experienced machine builder to build a customised version? Contact us now!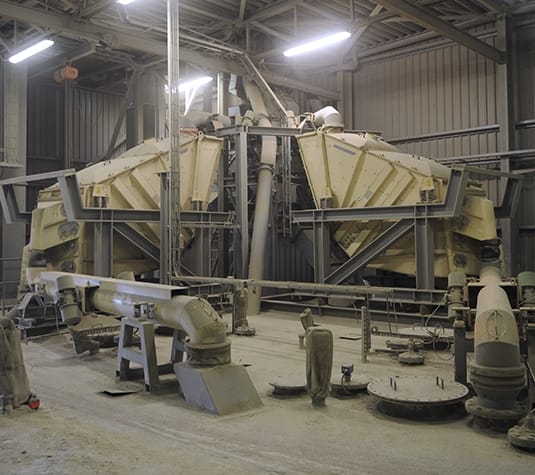 Maintenance and repairs to Meyland's machines
Specialised custom machines require specialised maintenance and repairs tailored to your machine. So even after the installation of your machine, weighing system, mixer, sieve or breaker at your company, you can continue to count on our machine builders. Ask for more information about our servicing plan.